100 Dozen Girls Sports Socks By Gildan .30 Per Pair!
$359.99 $264.99
Wholesale Gildan Girls Sports Socks
You will receive 100 dozen
Gildan girls sports socks, for boys
and girls, in an assortment of
different colors.
Sizes are for 6 months to
7 years old.
Socks are packed
6 pairs in a package.
You will receive a
total of 1200 pairs.
Although the socks are
very high quality, with no noticeable
defects, they are marked as
slightly imperfect on the outside of
the packaging.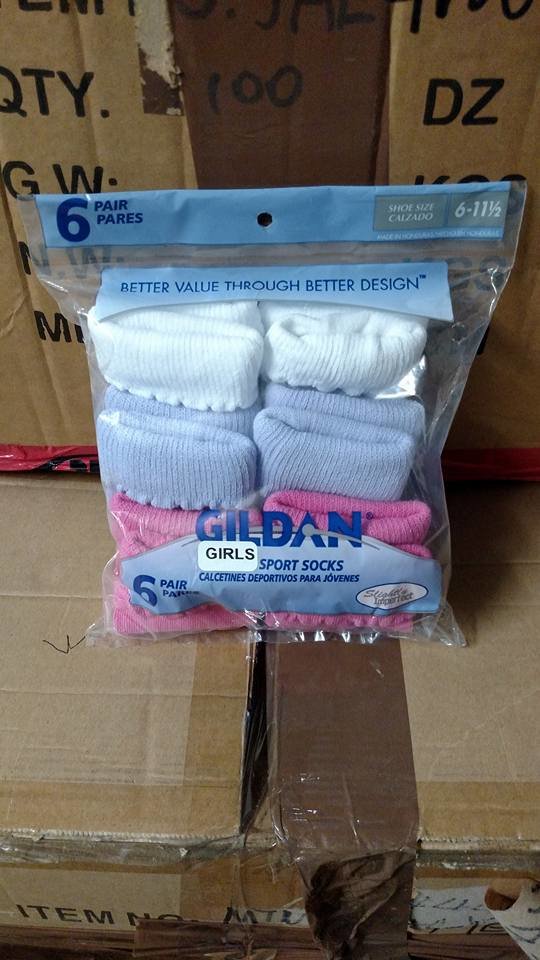 Gildan is one of the largest manufacturers of socks and apparel which has an investment of more than $1 Billion in technology and innovation. The company's vision is to uncover efficiencies and resource savings that most people cannot see. To invest in technology, continuous and sustainable solutions to create positive impacts for global reach. Gidlan's mission is to create value for customers by delivering quality products for families at low prices. The company has a positive influence on the communities where they operate by generating positive economic impacts. Their employees are empowered to succeed by treating them with respect and dignity which brings success to the company. The company's other mission is to create value for their shareholders by driving consistent earnings and returns on investments. The company is also responsible in pursuing continuous improvement for positive impacts for future generations.
The company deals with textile and clothing and supplies socks to retail companies in the United States. It has around 48,000 employees worldwide who operate manufacturing facilities in Caribbean, Rio Nance, and Honduras. The company has several growing portfolio of brands such as Gildan, Goldtoe, Anvil, Secret, Comfort Colors, Kushyfoot, Peds, Silks, Alstyle, and American apparel. The licensed brands under Gildan are under Armour, Mossy Oak, and New Balance. There are several health benefits associated with wearing socks. They include keeping your feet healthy by preventing foot diseases and infections, keeping the feet warm especially during winter, and also keeping the feet fresh by preventing the feet from perspiring.
There are several varieties of socks in the Gildan websites for sale which include show socks, big and tall ankle socks, crew socks, ankle socks, low cut socks, tube socks, and tall no show socks. These varieties of socks have different colors and sizes that customers can choose from for their satisfaction. These socks have cushioned soles which are more capable of managing moisture and keep you going. They are available on different sizes and can be sold in wholesale. If you look closely you will find that they hardly shrink after wash, they fit well and they feel good when wearing them.
Gildan operates as a vertically integrated manufacturing company leading to its efficiency and sustainable practices. The sewing operation is operated by highly skilled employees who are the last guardians of the company's products quality. The company has a global network of distribution centers which consists of more than 55 markets that have more than 1.5 Billion units every year. Their yarns are made in the United States, the textiles are sustainable and responsible, and the sewing is ethical, safe and responsible.
Verified purchasers have confirmed that the socks matched the criteria they were looking for in new socks. These criteria include quality, price and fit. The fact that they are sold in 10 pack makes it a fabulous brand of great value. The extension just above the ankle keeps them from disappearing into your shoe making them durable and a good product worth a try. These socks live up to their advertisement and keep the user with clean socks when not ready for laundry day. They last through many washes wear and tear.